Internet
Internet expert providing you with service
111years of combined experience in telephony & internet
With 9 dedicated telephony & internet colleagues, we guarantee the best possible service.
Choose the best connection for your business
No business can function without a reliable internet connection. A guaranteed and efficient connection is therefore of vital importance. We always look for the most suitable solution(s) for your connection.
K-Force offers more than just a connection
Our experts think along with you, for example for emergency solutions in case of internet fallout or interruptions. Moreover, for any internal (fiber) cabling works, we have our own certified installers, which enables you to gain valuable time in the delivery and installation of your ordered solution. This makes K-Force the perfect link between the introduction of your internet and assuring that you and your employees are fully operational.
The right type of connection for your needs
Fiber is the technology of the near future and now. The fiber cable transmits data over long distances at the speed of light and thus offers many advantages. To ensure you the best possible performance, together with Proximus, we install fiber to the heart of your business, unlike most other operators.
Main advantages of Proximus fiber
Surf and share files at least 3 times faster
Outstanding quality for videoconferences
Work faster with all your applications
A reliable and secure internet connection or connection between your branches is of great importance. Today, teleworkers and partners must also be able to easily access your network. With Explore from Proximus, you have a private connection with guaranteed throughput and at the same time a very low internet bandwidth, exclusively for you and your employees.
Main advantages of Proximus Explore (private network)
Your own network, private and secure
Always a guaranteed speed available, no matter the number of connected devices
Quality of Service: give priority to critical applications
Compared to a standard internet line, you can enjoy a guaranteed speed at all times, even with many simultaneous connections. A classic internet line just offers you a 'best effort' connection quality. In addition, you can determine which business applications are prioritized (QoS).
Staying connected is more important than ever. Thanks to a 4G backup failover, you don't waste precious time should an internet issue come up. And what's more, you keep your fix IP address. There is no limitation on the data you consume while using the mobile back-up line.
How do we proceed?
We analyze the current situation and examine where optimizations are possible
Personalized offer based on your needs (and not on the operator's revenue)
Preparation: delivery & installation of the necessary hardware
Follow-up of your optimalization from A to Z and personalized communication towards you as a customer to keep you informed.
Our experts in telephony and internet are ready to help you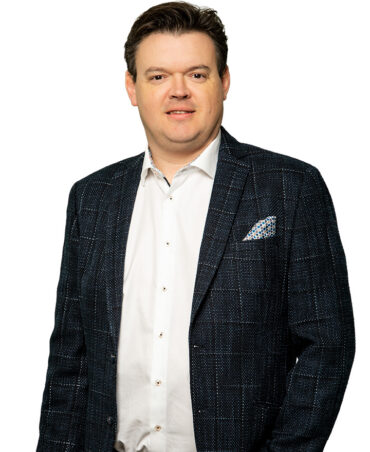 Kaj

Nathalie
Isabelle
Véronique
Tony
Interested in a partnership or do you have any question? Contact us.
We welcome all questions and are eager to find the perfect solutions to respond to your specific needs.
Or call us now!
We are happy to discuss your project, in person or via video call. Request a free consult with one of our IT or telecom experts to get to know each other and to look into your particular situation.
Count on K-Force as your all-in partner for ICT, digital workplace and telephony